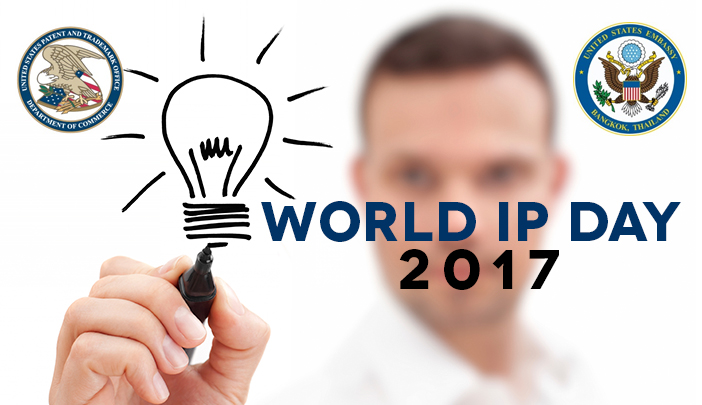 World IP Day 2017
"Celebration Innovation – Improving Lives"
Date and Time: April 26, 2017
Place: Conrad Hotel , Bangkok, Thailand
Program Schedule
8.30 AM – 9.00 AM
Registration
9.00 AM – 9.15 AM
Opening Remarks
Peter Haymond, Deputy Chief of Mission, U.S. Embassy Bangkok (TBC)
9.15 AM – 10.15 AM
Panel Discussion on the important of innovation to the development of country's economy
Brendan Hanley, IP Counsel for Southeast Asia, Western Digital
Jonathan Wong, Regional Adviser, United Nations Economic and Social Commission for the Asia and the Pacific on Science, Technology and Innovation
Siraprapha Rungpry, Project Manager, IP Management and International Relations, National Innovation Agency
Moderator: Teerin Charoenpot, Senior Intellectual Property Specialist, the United States Patent and Trademark Office.
10.15 AM – 10.30 AM
Coffee Break
10.30 AM – 11.30 AM
Panel Discussion on how intellectual property drive and motivate inventors to create inventions that improving lives.
Assoc. Prof. Sirirat Jitkarnka, Ph.D. The Petroleum and Petrochemical College, Chulalongkorn University
Assoc. Prof. Dr. Jessada Wannasin, Prince of Songkla University
Dr. Alisa Kongthon, Head of Speech and Audio Technology Lab, National Electronics and Computer Technology Center (NECTEC)
Moderator: Dr. Kitisri Sukhapinda, Acting Regional Intellectual Property Attaché, the United States Patent and Trademark Office.