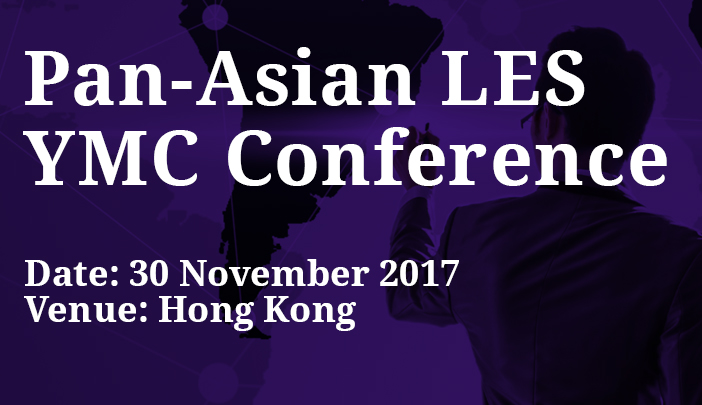 Pan-Asian LES YMC Conference
Date: 30 November 2017
Venue: Hong Kong
LES Thailand would like its Members to mark their calendars for LESI's first Pan-Asian LES YMC Conference which will take place in Hong Kong on on Friday, 30 November 2017. LES Hong Kong Member and recent speaker at LES Thailand's IP Training for Innovative Entrepreneurs 20-21 September 2017 Mr David Swain, Sr Associate – Deacons (Hong Kong) is spearheading the planning and organization of this inaugural event.
To this end, in order to gauge interest and ascertain a number of potential attendees (which will influence the venues which we may arrange), David would greatly appreciate your assistance to consider and reply whether or not you would be interested in:
1. attending, and if so, please email david.swain@deacons.com.hk (with this information, David will also maintain a mailing list to keep those who are keen to attend updated with the organisation of the event);
2. joining the organizing committee to assist with the organization of the event (which will likely require attendance to monthly calls);
3. speaking at the event (whether as a moderator and/or presenter); and/or
4. sponsoring the event (further details about the different levels of sponsorship to be provided later).
As this is a YMC event, it would be preferable for those interested in the above (except in relation to sponsorship) to be YMC members, but in the spirit of the YMC LES welcomes all those who are "young at heart"!
Also, while David has not settled on an overall theme at this stage, generally, the event is likely to focus on IP licensing practices (including, but not limited to, in relation to conducting licensing negotiations) in Asia, though in order to cater for the international audience of LES it has been proposed that there may also be some discussion of the differences in practices between Europe/USA and Asia. We hope this helps to assist those in deciding on whether they would like to attend/be able to speak at the event.
We will be making this announcement as well at LES Thailand's IP Valuation Workshop next Monday and Tuesday. For details on the IP Valuation Workshop, please visit: http://licensingthailand.com/upcoming-events/ip-valuation-workshop/