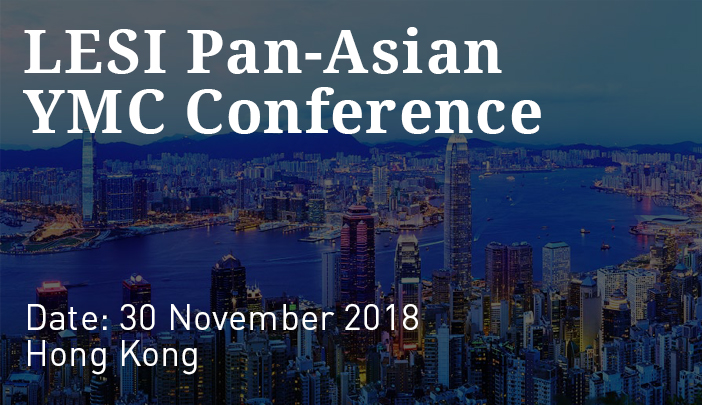 SAVE THE DATE for the 1st Pan-Asian LES YMC Conference
"The Globalisation of Licensing – Getting Deals Done While Navigating The Laws and Cultures of Different Countries"
Date and Time: 30 November 2018
Place: Hong Kong
Program Schedule
Dear LES Thailand Members,
Please see the attached Save the Date for LESI's First Annual Pan-Asian LES YMC Conference (Hong Kong – 30 November 2018). By way of an update, the conference organization is coming along well thanks to the efforts of David Swain of Deacons Hong Kong who you will remember as a speaker at the LES Thailand 20-21 July 2017 "IP Training for Innovative Entrepreneurs" conference held here in Bangkok. The Program is currently being developed and LES Thailand will pass that to you shortly. Current panel sessions include:
"Top new developments in IP licensing"
"War stories on cross-jurisdictional IP disputes"
"Best practices in IP licensing negotiations"
LESI is also looking into a possible additional/alternative panel session relating to AI/block chain which you will remember was an important topic at LES Thailand Annual Meeting 1-2 February 2018 here in Bangkok.
Speakers are currently lined up from Canada, China, Germany, Taiwan, and the US. The day will end with a mock licensing negotiation. Please let us know if you have interest in speaking. The event is free for LES members, with a US$50 charge for non-members. Please note that LESI are limiting the number of attendees to 70 people, and so it will be first-come, first-served!
We appreciate that for many people Hong Kong is a long way to travel for a one-day conference! Therefore, if anyone needs a further "excuse" to come, there is also an event to be held in Hong Kong from 6-7 December 2018. This is called the Business of Intellectual Property (BIP) Asia Forum. BIP Asia is a conference jointly organized by the HKSAR Government, Hong Kong Trade Development Council and Hong Kong Design Centre, which brings IP professionals and business leaders from all over the world to discuss the latest developments in the IP world, and to explore business collaboration opportunities.
The seventh edition of the Forum was held on 7-8 December 2017 with great success, featuring many prominent speakers sharing their insights, and attracted more than 2,500 IP professionals and industry players to attend. This is a forum that is attended by many businesses and professionals from all over the world, with a significant number coming from China and Hong Kong.
For further details, please contact LES Thailand or David Swain directly at david.swain@deacons.com.hk.
LESI YMC Pan-Asian Conference - Save the DateSponsorship Opportunities