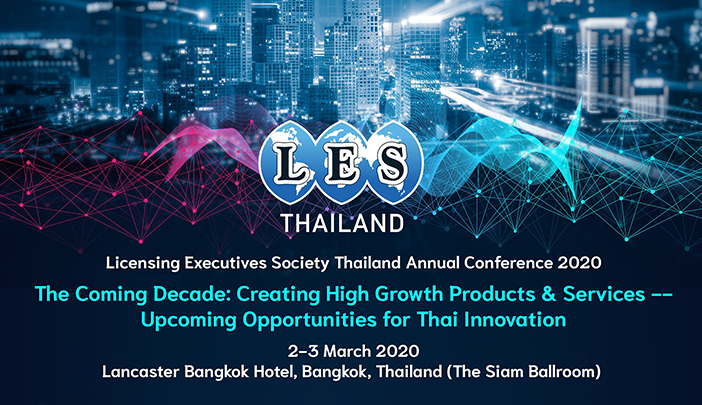 LES Thailand Annual Conference 2020
Theme: The Coming Decade: Creating High Growth Products & Services- Upcoming Opportunities for Thai Innovation
Date and Time: 2-3 March 2020
Place: The Siam Ballroom, the Lancaster Bangkok Hotel
You won't want to miss this year's industry opportunities and challenges. 2020 marks the beginning of a decade of tremendous opportunities for participation in a number of advanced technology products and services in Thailand and region. Public and private interest in promoting industries such as digital health/telemedicine, financial technology, renewable energy, cannabis for medicinal use, and functional food sees Thailand particularly well positioned to capitalize in these and other relevant areas. In addition to such industry specific opportunities, government initiatives recently announced will further serve to promote technology creation and collaboration. Most certain of these include the recently agreed Regional Comprehensive Economic Partnership (RCEP) promoting enhanced trade and investment in the Asia-Pacific region between ASEAN and its five FTA partners (Australia, China, Japan, New Zealand, and South Korea) as well as the Belt and Road Initiative (一带一路). But with opportunity comes risk. Good planning and good partnering can alleviate most risk, but not all.
Join Licensing Executives Society – Thailand for its Annual Meeting on 2-3 March 2020 to hear from distinguished speakers and panelists on how they see these opportunities playing out for Thai companies and entrepreneurs. While we will hear from these experts in terms of industry knowledge and state of the current art and effective IP commercialization tools, we will also be sharing "negative know how" experiences by learning of failed opportunities and how to learn from earlier mistakes.
The two day Annual Meeting will also provide fantastic opportunities to network with others and interact with Thailand's IP commercialization community.
Disclaimer: Due to the COVID-19 concern, the speakers from China, Singapore and the US will participate via conference call.
PROGRAM SCHEDULE
Day One, Monday 2nd March 2020
8.00 – 9.00
Registration, Networking and Morning Coffee/Tea
9.00 – 9.15
Welcome Address
Chalermpol Tuchinda, President, LES Thailand; VP, National Science and Technology Development Agency
9.15 – 9.30
Opening Ceremony and Opening Address by Guest-of-Honor
Thosapone Dansuputra, Director General, Department of Intellectual Property, Thailand
9.30 – 9.50
Keynote Address
Audrey Yap, President-Elect of LESI and Managing Partner, Yusarn Audrey, Singapore (teleconference)
9.50 – 10.30
Group photo, and networking tea/coffee
10.30 – 12.00
Session 1: The Emerging Trends of Technology: State of the Arts and Licensing Opportunities
Moderator: Dr. Wibool Piyawattanametha, Director, Advanced Imaging Research Center, Department of Biomedical Engineering, King Mongkut's Institute of Technology Ladkrabang (KMITL)
Panelists: Prof. Dr. Phyllis Leah Speser, Board of Directors, Foresight Science and Technology, USA (teleconference)
Dr. Akkharawit Kanjana-Opas, Vice President of National Science and Technology Development Agency (NSTDA) and CEO of FoodInnopolis
Raya Chantaramungkorn, Co-Founder and CMO of HD (HonestDocs)
Dr. Vasimon Ruanglek, Circular Economy Manager, SCG Chemicals Co. Ltd.
12.00 – 13.30
Lunch and Networking  (Buffet)
13.30 – 15.00
Session 2: Cross-border Trade and Investment
Moderator: Alan Adcock, Immediate Past President, LES Thailand; partner, Tilleke & Gibbins
Panelists: Auramon Supthaweetham, Director General, Department of Trade Negotiations, Ministry of Commerce
Han Yun, Partner, King & Wood Mallesons, China (teleconference)
Ningling WANG, Chairwoman of Chemicals Energy Environment and Materials Committee (CEEM) of LESI and Partner, Finnegan, China (teleconference)
15.00 – 15.30
Networking Coffee/Tea Break
15.30 – 16.30
Session 3: LES Thailand 2020-2021 Annual General Meeting (AGM)
Day Two, Tuesday 3rd March 2020
8.00 – 9.00
Registration, Networking and Morning Coffee/Tea
09.00 – 10.30
Session 4: Innovation in Licensing Enforcement
Moderator: Suebsiri Taweepon, partner, Tilleke & Gibbins
Panelists: Dr. Youngtack SHIM, State University New York (SUNY) Korea, Korea
Chakra Yodmani, Director of Intellectual Property Rights Enforcement Office, Department of Intellectual Property
Praewpan Hinchiranan, Associate, Baker & McKenzie
10.30 – 11.00
Networking Coffee/Tea Break
11.00 – 12.30
Session 5: Making Your Intangible Assets Work for Your Business
Moderator: Dr. Eliza Stefaniw, Vice President LES Thailand; King Mongkut's University of Technology, Thonburi
Speakers: Dr. Rutjawate Taharnklaew, Betagro
Prof. Dr. Phyllis Leah Speser, Board of Directors, Foresight Science and Technology, USA (teleconference)
Taneth Jiraswakedelok, CEO & Co-Owner, Divana Wellness Co., Ltd.
Miao Li, Asia IP Consultant, LexisNexis (teleconference)
12.30 – 13.30
Lunch
13.30 – 15.00
Session 6: Top Reasons Start-ups Fail: Learning from Earlier Mistakes
Moderator: Siraprapha Claassen, Innovation Counselling Manager, Innovation Infrastructure Department, National Innovation Agency (NIA); consultant, Tilleke & Gibbins
Panelists: Dr. Panachit Kittipanya-Ngam, President Thailand Tech Startup Association
Dr. Glenn Navarra Baticados, Director Center for Technology Transfer and Entrepreneuership University of the Philippines at Los Banos, the Philippines
Dr.Tanyanuparb Anantana, Director of Science and Technology Park, Chiang Mai University
Dr. Pisek Gerdsri, Business Incubator, Preventive Care Solution, SCG, Thailand
Richard Wright, MSE, MBA, Chief Business Officer, Ensysce Biosciences
15.00 – 15.30
Networking Coffee/Tea Break
15.30
Closing remark
REGISTRATION FEE
Registration Package
Member Rate (THB)
(Per Person)
Non-Member Rate (THB)
(Per Person)
Package A (1 Seat)
6,500
8,000
Package B (More than 2 Seats)
6,000
7,500
Click for Registration
Supported by

Sponsored by

PAYMENT METHODS
1. Wire transfer to account information below:
Account Name: Licensing Executives Society (Thailand)
Account Number: 020-109544-1
Bank Name: Kasikorn Bank PCL
Address: 716/5 Techavanit Road, Bang Sue, Bangkok 10800 THAILAND
Swift code: KSITHBK
2. Cheque courier or registered mail to
Attn: Ms. Thaneeya Wongchan
111 Thailand Science Park, Phahonyothin Road, Klong 1, Klong Luang Phathumthani 12120 Thailand
3. Credit Card Payment on Conference Date at registration desk (charging an extra 3%)
For more information or any question with registration process, please contact Ms. Thaneeya Wongchan 02-564-7000 ext.1320
HOTEL ACCOMMODATION
1777 New Phetchaburi Road, Bangkok 10310, Thailand TEL: +66-2-2628000
https://lancasterbangkok.com/