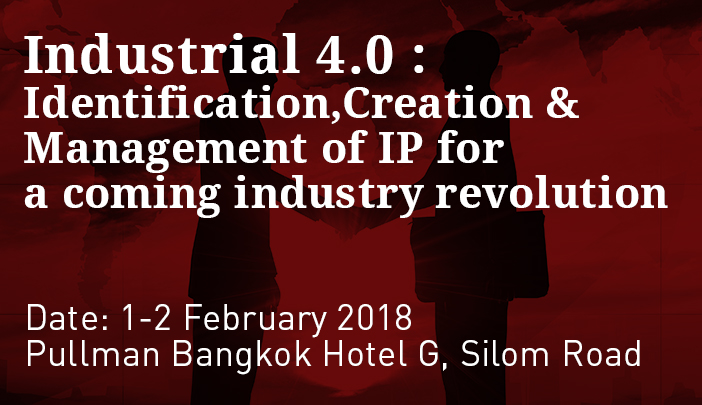 LES Thailand Annual Conference 2018
Theme: Industrial 4.0 : Identification, Creation & Management of IP for a coming industry revolution
Date and Time: 1-2 February 2018
Place: Gallery 1-2, 36th Floor, Pullman Bangkok Hotel G, Silom Road

Shaping Thailand's economic growth is the government's focus on its "Thailand 4.0" policy, a new economic model that aims to create sustainable growth, lift the country out of its "middle-income trap," and reduce inequality and imbalances. Five relatively new industrial groups are being targeted under this policy. They are the food, agriculture and bio-technology group; the health and medical technology group; the robotics, smart devices and mechatronics group; the artificial intelligence and internet-related group; and the creativity, culture and high-value services group. It is hoped that a focus on these target groups will lead to various new startup industries that will stimulate long-term economic growth.
In addition to Thailand 4.0, Thailand's recent upgrade from the United States Trade Representative's Priority Watch List to the Watch List represents an official acknowledgement of the great strides Thailand has made in improving its practices for intellectual property protection and enforcement as it progresses toward the goal of Thailand 4.0.
With this in mind, the Licensing Executives Society (Thailand) will hold its Annual Conference on 1-2 February 2018 under the banner of "Thailand 4.0 and IP Issues for the Government's Promoted Industries – Automation, Robotics & Artificial Intelligence and Fintech, block chain and encryption.
Technological evolution has dramatically changed the way we are and will be conducting business now and in the future. Join LES Thailand as we explore these issues as they will relate to the Government's drive to push the economy forward through advances in artificial intelligence and more efficient payment, financial and insurance services. How will these rapid changes in both technology and government policy affect your businesses?
Program Schedule
Day One, Thursday 1 February 2018
8.00 – 9.00
Registration, Networking and Morning Coffee/Tea

9.00 – 9.15
Welcome Address
Alan Adcock, President, LES Thailand; Partner, Tilleke & Gibbins
9.15 – 9.30
Opening Ceremony and Opening Address by Guest-of-Honor
Wanpen Nicrovanachumrus, Deputy Director General, Department of Intellectual Property, Thailand
9.30 – 9.45
Keynote Address by Guest Speaker
Dr. Kasititorn Pooparadai, Senior Executive Vice President/CSO, Digital Economy Promotion Agency (DEPA)
9.45 – 10.15
Keynote Address: What Happens to IP When Machines are Intelligent Too
Prof. Dr. Phyllis Leah Speser, Senior Advisor to the President
King Mongkut's University of Technology Thonburi and Chair, Board of Directors, Foresight Science and Technology, USA
10.15 – 10.30
Networking Coffee/Tea Break
10.30 – 12.00
Session 1: Global Perspectives on Digital, AI and technological innovation preparation

Moderator: Dr. Jirut Wattoom, Program Manager, SPRINT Accelerator Thailand
Speakers: Sanya Chindaprasert, Digital Manager, SCG Chemicals Co., Ltd.
Pongsakorn Teeraparpwong, former Senior Software Engineer, Amazon.com and current CTO, Indie Dish
Suwipa Wanasathop, Vice President, National Science and Technology Development Agency (NSTDA)

12.00 – 13.30
Lunch Break (Buffet)
13.30 – 15.15
Session 2: Patent Analytics: Showcase of AI

Moderator: Dr. Orakanoke Phanraksa, IP Policy Manager, Technology Licensing Office Division, National Science and Technology Development Agency (NSTDA)
Speakers: Irene KITSARA, WIPO Patent analytics, Switzerland
Matthew Luby, Director and Lead Consultant, CPA Global

15.15 – 15.30
Networking Coffee/Tea Break
15.30 – 17.00
Session 3: Blockchain, Cryptocurrency and Business & IP Implications

Moderator: Dr. Eliza Stefaniw, King Mongkut's University of Technology, Thonburi
Speakers: Professor Tonya Evans, University of New Hampshire School of Law
Day Two, Friday 2 February 2018
08.00 – 09.00
Registration, Networking and Morning Coffee/Tea
09.00 – 10.30
Session 4: Fintech & Logistics & Distribution innovations

Moderator: Dr. Allen Yeo, Chief Advisor, Cubic Tree Investments
Speakers: Yoji Hamanichai, Managing Director, SCG Yamato Express
Sam Tanskul, Managing Director of Krungsri Finnovate
Tavatchai Boodin, SVP Corporate Cash Management, Bangkok Bank Ltd.

10.30 – 10.45
Networking Coffee/Tea Break
10.45 – 12.30
Session 5: Artificial Intelligence
Speakers: Charatpong Chotigavanich, Director, CTO of T2P Co., Ltd.
12.30 – 13.30
Lunch
13.30 – 15.15
Session 6: Inhouse Counsel Panel

Moderator: Alan Adcock, Partner, Intellectual Property, Tilleke & Gibbins
Speakers: Flora Feng, Senior Director & Legal Counsel, Asia Pacific Region at PepsiCo
Desarack Teso, Corporate, External & Legal Affairs Director at Microsoft Thailand
James Evans, Director of Legal and External Affairs, Asia at Linfox International Group

15.15 – 15.30
Networking Coffee/Tea Break
15.30 – 16.15
Session 7: Innovation in Thailand 4.0: Driving Impact with Patent Intelligence
Speaker: Dr. Rahul Pandey, Solutions Consultant, ASEAN, IP & LS, Clarivate Analytics
16.15 – 16.30
Closing remark
ANNUAL CONFERENCE FEE
Registration Package
Member Rate (THB)
(Per Person)
Non-Member Rate (THB)
(Per Person)
Package A (1 Seat)
5,500
7,000
Package B (More than 2 Seats)
5,000
6,500
Click for Registration
PAYMENT METHODS
1. Wire transfer to account information below:
Account Name: Licensing Executives Society (Thailand)
Account Number: 020-109544-1
Bank Name: Kasikorn Bank PCL
Address: 716/5 Techavanit Road, Bang Sue, Bangkok 10800 THAILAND
Swift code: KASITHBK
Note: Kindly send the payment slip back to contact@licensingthailand.com. After the payment confirmation, we will confirm shortly.
2. Credit Card Payment on Conference Date at registration desk
More information on http://www.licensingthailand.com. If you have any queries, please contact by e-mail: contact@licensingthailand.com or tel: +662 056 5829 or +662 586 5307
HOTEL ACCOMMODATION
Pullman Bangkok Hotel G
188 Si Lom, Bangrak, Khet Bang Rak, Krung Thep Maha Nakhon 10500
Tel: +66 (0) 2352 4000