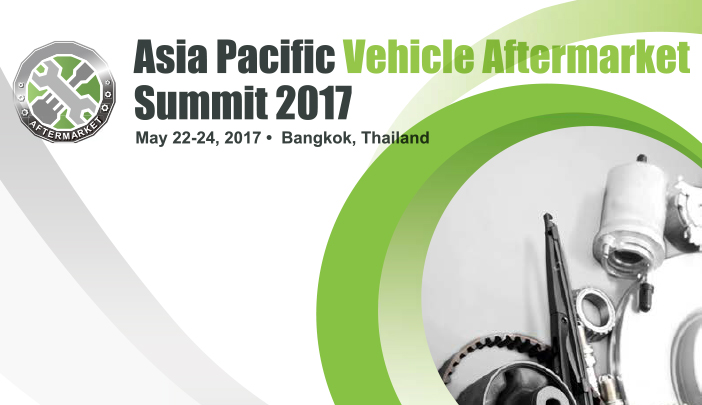 Asia Pacific Vehicle Aftermarket Summit 2017
Date and Time: May 22-24, 2017
Place: Radisson Blu Plaza, Bangkok, Thailand
Program Schedule
Pre-event Conference
Monday, May 22
Insights into the Indian Vehicle Aftermarket
Technavio's market research analysts have predicted that the auto component market in India will grow steadily at a moderate CAGR of around 19% by 2020. Accounting for almost 42% of the total market share during 2015, the engine, suspension, and braking parts segment dominated the auto component market in India. The OEM segment will dominate the auto component market in India throughout the forecast period and account for about 89% of the total market share by 2020.
13:00
Trending Factors Influencing the Market Share of the Indian Vehicle aftermarket
Vinod K. Dasari
President SIAM, Managing Director
Ashok Leyland
13:45
Increased Vehicle Aftermarket Need through OES channel in India
Shyam Maller
Sr. Vice President
VE Commercial Vehicle
14:30
Tea Break
14:45
Panel Discussion: How Can OE Parts Manufacturers Cooperate with OEMs Channel and Make a Profit?
Gates, Volvo, Bharat Forge, Minda
15:30
Role of Independent Repair Chains – Independent Aftermarket's Open Innovation to Co-Create Consumer Experience
Rama Shankar Pandey
Managing Director
Hella India Lighting
16:15
End of Pre-conference
Day One
Tuesday, May 23
08:30
Registration
08:55
Opening Address for Honorary Chairman
09:00
Influence on the Automotive Aftermarket of the Development of the CHINAASEAN Free Trade Area
• Introduction to the CHINA-ASEAN Free Trade Area
• Comprehensive analysis of various initiatives and strategies in ACFTA membership
countries
• Opportunities and challenges for the vehicle aftermarket due to relevant
initiatives
• How to take advantage of preferential policies for aftermarket
development
• Q&A
Sanith Phromwong
Director, Department of Land Transport Thailand
Ministry of Transport
09:45
Implementation of the UN Regulations for the Vehicle Aftermarket in Malaysia
• Certification of UN Regulations
• Current and future implementation of the UN Regulations
• Q&A
Mohd Yusop Bin Mohamad
Deputy Director, Automotive Engineering Division,
Road Transport Department, Ministry of Transport Malaysia
10:30
Tea Break
10:45
Automotive Industry in Thailand Upcoming Trends
• Outlook of Thai automobile industry – past 5 years & next 5 years.
• Thailand is the hub of ASEAN – Why Thailand will grow much faster than other
ASEAN destinations.
• Automotive after-market in Thailand – present & future trend.
• Opportunities in automotive aftermarket
Sanjay Mishra
CEO
Tata Motors Thailand
11:30
Opportunities and Challenges in the Philippine Vehicle Aftermarket
• The Philippine automotive market outlook
• Opportunities brought about increase in vehicle population
• Opportunities brought about by regulatory movements
• Future of the Philippine automotive aftermarket.
Allen Raymund A. Rufo
Chairman- Parts & Service /Aftersales committee
Chamber of Automotive Manufactures of the Philippines Inc.
12:15
Lunch
13:30
Ice Breaking
14:15
Panel Discussion: OEM's Promotion on Attracting Customers to Maintain Vehicles through Authorized Channel
• Methods used by by OEMs to attract customers in aftermarket
• How to win market share in OES channels
• Q&A
Volvo, Suzuki, Honda, Mitsubishi, Toyota
15:00
Merit and Necessity of Warranty Extension Business Development in the Asia Pacific Region
• Domestic consumers' acceptance for extended auto warranty products
• Understanding and satisfying consumer needs
• How to leverage the market through innovative products
• Q&A
Open for Sponsor
15:45
Remanufacturing – Diversify Your Aftermarket Portfolio to Realize Your Commitments to Customers
• Introduction to Remanufacturing
• Reman Status in the major countries in Asia Pacific
• Use of Reman Parts in the Auto Aftermarket
Wayne Yao
Head of Reman and Aftermarket
BD & Marketing Director
Duxes Consulting
16:30
Trends for Hybrid and Electric Commercial Vehicles, and their Influence on the Vehicle Aftermarket
• The development status of new energy systems applied for commercial vehicles
• Influence on the vehicle aftermarket
• Experience sharing and case study
• Q&A
Chandra Rajan
Aftersales Director
Scania
17:15
Tea Break
17:30
Increasing Demand for Eco-friendly Vehicle Spare Parts, and Related Market Opportunities In Thailand
• Introduction to eco-friendly vehicle trends in Thailand
• Demand for eco-friendly vehicle spare parts
• Future direction of technology
• Q&A
Chaiyant Savanachai
Executive Officer Sales & Marketing
Suzuki Motor
18:15
End of Day One
Day Two
Wednesday, May 24
09:00
Strategy for Establishing Product Distribution Systems
• Marketing positioning through establishment of product distribution channels
• Challenges and opportunities
• Innovation and globalization
• Q&A
David Marchand
Executive Director Asia Pacific
TEMOT
09:45
Market Demands and Business Development of Automotive Workshops
• Market data for automotive workshops in Malaysia
• Automotive workshop demand analysis
• Intangible considerations that affect a workshop's purchasing decisions
• Q&A
Guo Shousui
Chief Advisor
Taiwan Automobile Repair Industry Association
10:30
Tea Break
10:45
Panel Discussion: How OE Parts Manufacturers Realize Success in Independent Aftermarket
• The role of vehicle component suppliers in aftermarket
• OEs' business allocation strategies in IAM
• Potential channels in the independent aftermarket, and analysis of profitability
• Q&A
Continental, Valeo, Magneti Marelli, Cummins
12:15
Lunch
13:30
Body Paints Implementation in Vehicle Aftermarket Maintenance
Open for Sponsor
14:00
Fuel Upgrade and Demand Analysis in the Vehicle Aftermarket
• Overview of fuel upgrading process in main Asian countries like China, Indonesia,
Singapore etc.
• Experience sharing of difficulties and solutions in fuel upgrading process
• Potential opportunities and challenges in alternative fuels application
• Q&A
Peng Xiaofei
Vice President
Chevron
15:15
Tea Break
15:30
Potential Business Opportunities for Used Car Transaction via New Internet based Sales Channels
• Current market volume for used vehicles
• Alternative methods for used vehicles trades
• Establish a platform for used vehicle trades
• Q&A
Pornladda Dathratwibul
General Manager
Icar Asia
16:15
End of the Summit
Special offer:
• 20% Discount for Second Attendee, Half Price for Third Attendee with Two Standard Prices
• Participants will receive a Free Booth with registration of three or more delegates
Please let us know if you would like to attend.
As you are a member of LES Thailand, a special discounted rate of USD 1,500 per person has been extended to us. As seats are limited, please let us know as soon as possible if you would like to attend. The registration form is attached on the last page and you may return that to stephanie.li@duxes.cn
To confirm your attendance, the registration form in the agenda needs be signed and sent back to us.
For more information, Please download Asia Pacific Vehicle Aftermarket Summit 2017 Agenda here.